About Melted Clock Studio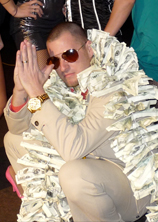 Dustin Tucker Characters: TUCK & Cap Gun
Dustin Tucker
Hailing from Louisville, Ky. Dustin "Tuck" Tucker has been creatively expressing himself since a child. He started musical production in his early teens. Tuck has performed on stage in front of thousands of people at a time all across the United States, so in other words he's a natural. Tuck is the co-founder of the Louisville based band the Villebillies. The Villebillies signed to Universal Motown in 2005 and released their debut album in 2006. Tuck has worked hands on with two grammy award winning producers, Toby Wright (Metalica,Korn,Alice in Chains) and Bob Ezrin (Pink Floyd, Alice Cooper,Kiss). Tuck developed an interest for sketch comedy around 2003 when he began writing and filming skits with fellow cast mate and band member Demi. Now teamed up with Shaun Wilson and his crew, the quality will be a step above and up to industry standards.
---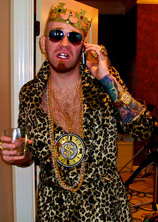 Demi Demaree Characters: Demi, Ice Burg and Red Ross
Demi Demaree is a man of many faces & personalities. This multi-talented native of Louisville Kentucky has made himself known one way or another since the mid 90s. Front man and founder of bands such as Plan of man & The Villebillies (Universal Motown) Singer Song writer Demi D has proven himself to be an artist to look out for. Outside of music, Demi is involved in Melted Clock Studios where he is able to unnail his inner sarcasm and humor for the world to see. Between his knack for the stage and his love for the camera, its is easy to see why this guy keeps popping up whether we like it or not.
---
---