About Melted Clock Studio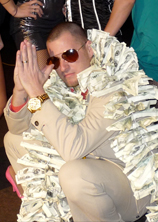 Dustin Tucker Characters: TUCK & Cap Gun
Dustin Tucker
Hailing from Louisville, Ky. Dustin "Tuck" Tucker has been creatively expressing himself since a child. He started musical production in his early teens. Tuck has performed on stage in front of thousands of people at a time all across the United States, so in other words he's a natural. Tuck is the co-founder of the Louisville based band the Villebillies. The Villebillies signed to Universal Motown in 2005 and released their debut album in 2006. Tuck has worked hands on with two grammy award winning producers, Toby Wright (Metalica,Korn,Alice in Chains) and Bob Ezrin (Pink Floyd, Alice Cooper,Kiss). Tuck developed an interest for sketch comedy around 2003 when he began writing and filming skits with fellow cast mate and band member Demi. Now teamed up with Shaun Wilson and his crew, the quality will be a step above and up to industry standards.
---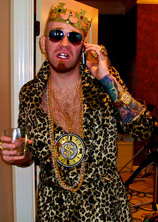 Demi Demaree Characters: Demi, Ice Burg and Red Ross
Demi Demaree is a man of many faces & personalities. This multi-talented native of Louisville Kentucky has made himself known one way or another since the mid 90s. Front man and founder of bands such as Plan of man & The Villebillies (Universal Motown) Singer Song writer Demi D has proven himself to be an artist to look out for. Outside of music, Demi is involved in Melted Clock Studios where he is able to unnail his inner sarcasm and humor for the world to see. Between his knack for the stage and his love for the camera, its is easy to see why this guy keeps popping up whether we like it or not.
---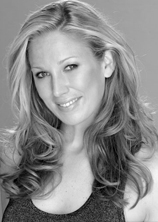 Sarah Hyland Characters: La, Sarah & Marth Owens
Sarah Hyland (from MTV's "Punk'd") is a Comedian, Actress, Improv Artist, Street Performer, and Roller Skate Queen. She is a native of Louisville, Kentucky. Sarah's "artistic tendencies" first surfaced during her junior year in high school. She won numerous awards in the area of visual arts and since has been on the cast of MTV's "Punked" and has recently been selected as a cast member on an NBC pilot to be called "Comedy Coliseum". She has appeared on several episodes of Fox's popular show "Mad TV". Most recently, Sarah was selected to be on the cast of a new show on the Oxygen Channel to be called "She-larious". More on Sarah
---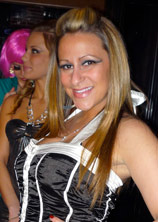 Amy Mivelaz Tucker
Amy has always enjoyed the arts and had a dream of being in the entertainment industry. Amy got started at the age of two when she began dancing and continued dancing on stage for fourteen years. While in school, she loved singing and participating in school plays. She sang in the church choir and was involved in drama classes. Amy's interests developed into an all out love for music and entertainment! She has had a long musical career and recorded and worked with many of the music industry's top producers.She has also performed for thousands of people. Amy has acting experience and loves making people laugh.
---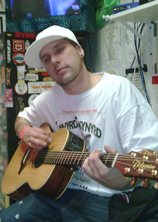 Justin Reid Characters: Beautimur
Born and raised in the "Gateway to the South", Louisville, Kentucky, came a wild man named Justin Reid. He began his musical career, as a guitarist, at the young age of seven. A self-taught accomplished guitar player is how he describes himself. Justin and Demi started playing, writing, and recording original music when they were only thirteen. During his teen years he played in countless bands, played numerous live shows, recorded albums and that all kind of led to the formation of the band Plan of Man which was formed in late '98. As the electric guitarist, he formed a style all of his own and really became a songwriter. He is also the electric guitarist for the Villebillies (and co-song writer) known for his 'live for the moment' lifestyle and learning things the hard way, Justin is now making a stab at acting (i guess you can call it that!) and skit-writing as a result of a character the band and he created amongst many crazy drunken nights on a national tour with the Villebillies.
---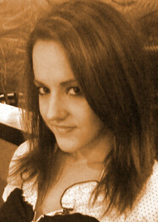 Katie Edwards
Katie Edwards, a louisville native, has had a love for entertaining people since she was a child. Early on dancing and singing on stage gave her the most enjoyment out of life. Katie sang in her school chorus for years and was heavily involved in drama classes. It was quickly apparent that where she excelled the most was with her involvement in theater. Her experiences in theater sparked a passion for acting that is still with her today. Katie enjoys a career as a hair stylist, but her aspirations of becoming a successful actress outweigh everything in her life. Currently Katie has been involved in modeling in hopes of furthering her career in entertainment.
---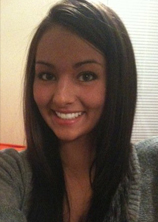 Cadie Andes
Born in Akron, Ohio, Cadie has loved the arts as well as entertaining people ever since she can remember. She has continued to be involved in art and has produced award-winning pieces. Going to eight different schools, she was regularly known as "class clown", constantly providing comic relief no matter what the occasion. She enjoys transforming into different characters and living in the moment, but knows how to conduct business at the end of the day.
---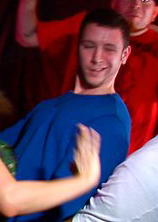 Tony Mivelaz
"Tony was born and raised in Louisville, KY. He has always enjoyed the comedy scene and loves making people laugh. He became close friends with Dustin Tucker and started to get involved in Melted Clock and takes a lot of pride in the team. Music and entertainment comes naturally to him, as he has been involved with both since he was born. He looks forward to fun and a lot of success in the Melted Clock family that is built on friendship, team work and a lot of talent."
---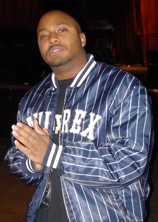 Demetrius Watts
Who would have ever thought that former Seneca High School's student of Louisville Kentucky troubled, yet nominated class clown could take him somewhere due to his extreme lust for entertaining fellow classmates. Known for his charming, humorous, but yet sexy intellectual personality. Actor, writer/photographer Demetrius Watts has pursued a career with taking his natural talents to new heights. With the love of networking and exploring new ideas with creative minds for years, finally he has combined forces with the producers of Melted Clock to pursue a vision of great entertainment. Mr. Watts interests involve, music, cars, clothing, sport, and also a fine assortments of many different things. He has also known for working with local music artist and producers as well.
---
Kris Melson
Kris "H.B." Melson is a skilled up and coming music producer, who has managed several local hip hop acts here in Louisville. During the summer of 2004, while starting a new job, Kris was then introduced to Tuck, (co founder of the Villebillies) through a mutual friend. Soon after, they discovered they were both talented individuals who love nothing more but to entertain people. Kris has the charisma and charm which allows others to be stunned by this young man. Most people misconstrue his confidence with being cocky, but that's not the case. Kris prides himself on showing the world that you can overcome some of the worst situations by being optimistic. He has always been involved in several types of different projects since his teenage years. Kris is a very versatile & dynamic indivdual with alot of creative strategies and ideas to share. Despite his flare & witty personality, he is still very business orinented at all times.
---